Our know-how at the service of contractors and workers
Along with supporting during the lay-up directly on site with our specialised technicians, Olympus offers its know-how to the professionals and the workers of construction businesses for an improved use of our innovative seismic and structural reinforcement systems, both from a design perspective and a practical one.
Vocational training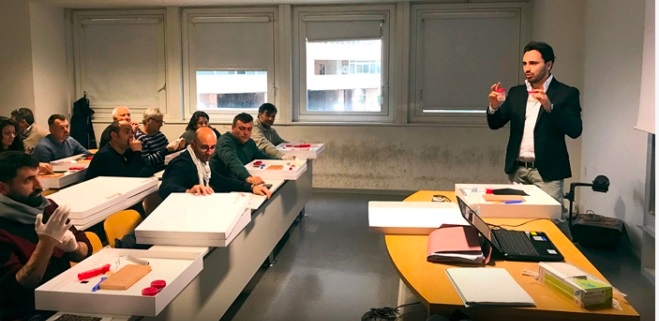 The high level of know-how and expertise in the building industry makes it possible for Olympus to organize vocational training events for Italian contractors. Our training courses – organized in collaboration with professional associations of engineers, architects and surveyors on the entire national territory and giving right to education credits – mainly deal with the topic of structural reinforcement and professional updates on the latest innovations concerning the use of composite materials for civil, industrial and monumental heritage constructions.
Workers' training
Olympus can deliver technical support by our technical staff directly onsite during the lay-up of our systems. This training enables the workers to be autonomous and acquire the skills for a perfect execution of works.
Indeed, to ensure a perfect lay-up, the right chemical bonds need to form, so to have the systems correctly adhering. Sometimes, thermohygrometric environmental conditions need to be checked too, hence assistance is required to be sure the work can be performed in line with the project recommendations and that the chosen materials and laying procedures are fit for the environmental conditions the reinforced construction is exposed to. Right before starting with the lay-up, sometimes also a final check is required to assess that the unevenness of the underneath layer are within the accepted tolerance range and that the surfaces are clean enough.
Our staff will provide your operators with all these pieces of information and is available to meet any request by the construction supervisor while supervising the systems lay-up.
Are you interested in our training events? Contact us now