FRP RESIN OLY RESIN 10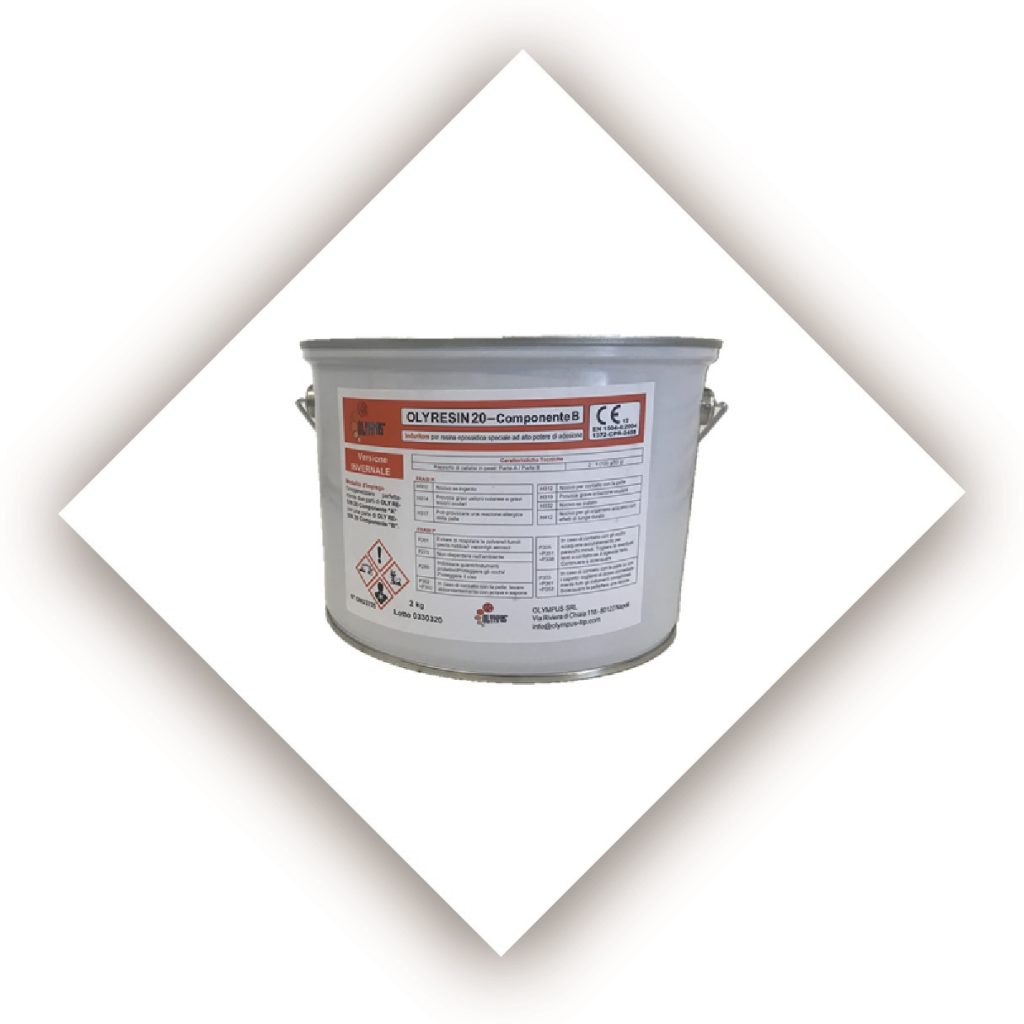 OLY RESIN 10 (A+B) is a thixotropic two-component adhesive epoxy resin-based solvent-free, it is supplied in two pre-dosed containers with resin/hardener ratio 1:1. It has excellent adhesion to various supports and does not present shrinkage in the hardening taht occurs by chemical reaction without emission of volatile substances. OLY RESIN 10 (A+B) is CE marked as structural bonding according to EN 1504-4. La OLY RESIN 10 (A+B) is used for high strength structural gluing of materials used in construction such as concrete, plaster, wood, brick wall, metals, "Béton Plagué", structural reinforcements of vaults, walls, concrete, by using OLYMPUS line fabrics and sheets composite systems, in addition to ensuring high adhesion to the support, it allow the installation in an optimal way eliminating the formation of dangerous air bubbles.
The product is supplied in pre-dosed containers with resin/hardener ratio 1:1 to make in easier on site to prepare small doses without errors.
Mix component "A" (resin) with component "B" (hardener) until uniform color is obtained and apply with spatula on perfectly clean of dust, dry and free of inconsistent parts surface.
Sandblast both concrete and metal surfaces to remove cement laitance and extrusion slag respectively. Mix the amount of resin you expect to be able to use within the frost time.
STRUCTURAL REINFORCEMENTS WITH COMPOSITE SYSTEMS
Mix two component and apply the product in a uniform layer with a metal spatula; when the resin is wet, proceed with the subsequent fabric impregnation and spreading, with a suitable metal roller and press lightly on it to facilitate adhesion and avoid formation of air bubbles. When laying OLY PLATE sheets, the layer of OLY RESIN 10 (A+B) must be spread both on the support and on sheet surface involved in the bonding.
10 Kg (A+B).
20 Kg (A+B).
Pallet – 50×20 – 1000 Kg