Free software programs to help designing the reinforcement project with FRP and FRCM
OLYMPUS has developed numerous computation softwares to facilitate the structural calculations to professionals on reinforced concrete and masonry buildings, with a view to collaborating with technicians involved in structural reinforcement projects with FRP, FRCM and CRM. The software programs were developed based on more than 20 years of expertise in the field of structural reinforcement.
Oly Floor App
Reinforcement of reinforced concrete, wood and steel floors with FRP mesh.
Our expertise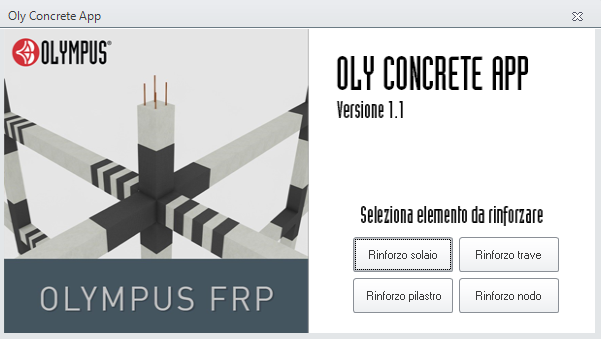 OLYMPUS developed back in 2005 the first spreadsheets for the design of structural reinforcement projects using FRP composite materials. After 20 years the spreadsheet have been used by hundreds of professionals in Italy and in many European Countries. This helped the company monitoring and improving the functioning of these spreadsheets, now the basis for the development of new software programs.
Back in 2013 OLYMPUS was the first company in the world to develop three apps for iPhone "OLYMPUS iFRP" helping contractors to dimension the structural reinforcement interventions directly on site with their mobile.
The new softwares
In 2019 OLYMPUS developed new computing softwares in full compliance with the current technical regulations for construction, the Guidelines of the Higher Council and the Technical Documents by CNR.
The software programs were developed by a team of expert structural engineers and software programmers having wide expertise in the field of structural reinforcement. They were tested on hundreds of reinforcement projects and their results compared with those of the major structural reinforcement software programs available on the market.
The softwares developed by OLYMPUS are also based on the results of many research projects conducted by the company for 15 years in partnership with Universities and Research Centers.
The software programs for structural reinforcement with FRP are mainly two, OLY CONCRETE APP for the dimensioning of structural members in reinforced concrete and OLY MASONRY APP for the dimensioning of structural members in FRP-reinforced masonry reinforced of the OLYMPUS FRP line.
The software program designed for structural reinforcement with FRCM is OLY STONE APP for the dimensioning of structural members masonry reinforced with FRCM.
Advantages of the new computation softwares
The use of a computation software developed by a company which has been certifying and engineering its composite materials for structural reinforcement for 20 years and which also develops apps and softwares based on its expertise in the field represents a guarantee of safety and professionals for the stakeholders of the industry.
The great advantage of the software programs for FRP and FRCM systems proposed by OLYMPUS is the possibility to automatically establish a calculation report following the structural testing automatically issued by the software.
A technician can thus easily rely on calculation reports produced by a software to complement its project documents.
Enter your details to access our software