Structural reinforcement and seismic adjustment with FRP systems certified with CVT
Structural safety and seismic adjustment of masonry buildings are topical and highly relevant issues in civil societies. There are plenty of structures requiring structural reinforcement interventions and several are the seismic events interesting the Italian territory over the years. The need has been thus expressed to make sure the structures have adequate performances in compliance with current regulations and the many seismic phenomena.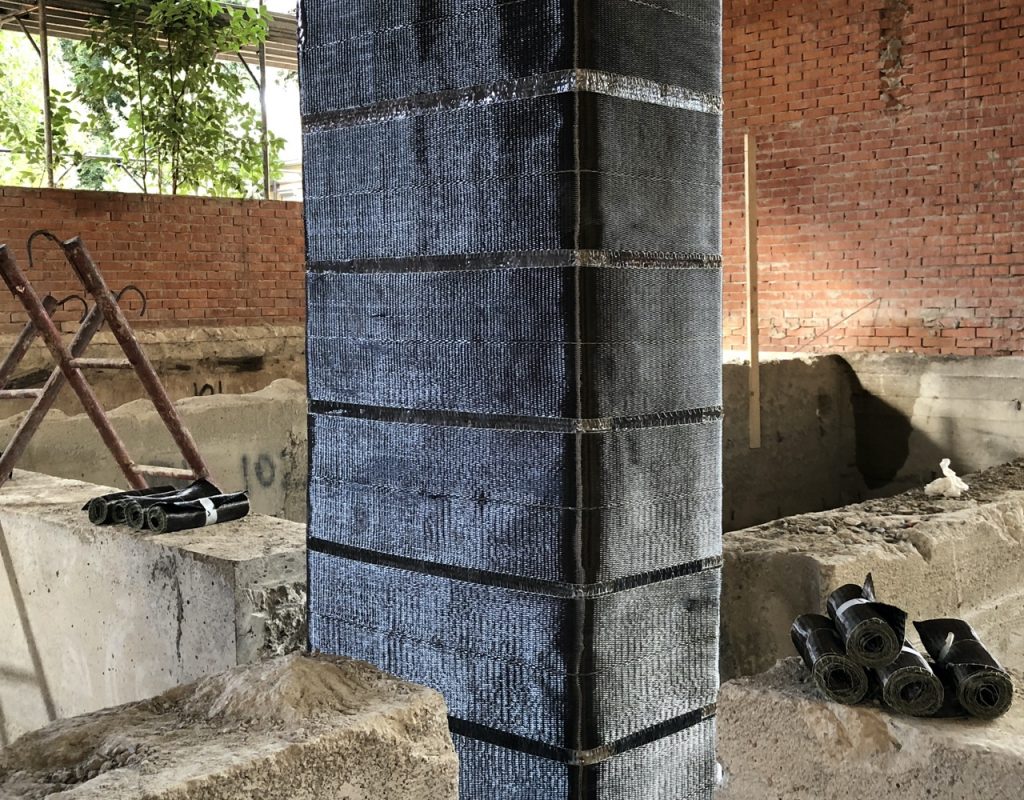 In such a context works OLYMPUS FRP with its composite materials made out of high mechanical strength fibers and polymer resins, representsan innovative technology compared to traditional reinforcement systems which delivers great advantages both from a technical and a practical point of view.
FRP materials, thanks to their high mechanical strength and the reduced impact on structures in terms of weight, rigidity and geometry, represent an effective solution for reinforcement of reinforced concrete, masonry, wood and steel structures.
The absence of oxidation phenomena also conveys to these systems a high durability over time, since it prevent the typical issues concerning traditional techniques.
---
Olympus FRP line
OLYMPUS FRP line offers a wide range of resins and textiles in fiber-carbon, glass, basalt, aramid and steel, available in different grammages and frames. Carbon fiber pultruded plates are available in diverse sizes and elastic modulus and also carbon fiber pultruded rods, glass and aramid fiber are available in a range of products.
---
Possible employs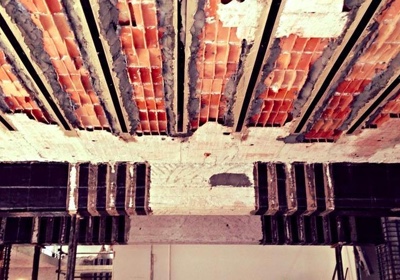 Composite materials of OLYMPUS-FRP line can be employed in structural reinforcement projects of existing buildings.

Thanks to their mechanical properties the systems can be employed also for seismic adjustment of masonry structures or also locally to fix some structural gaps. FRP systems shall be applied to the appropriate supports, such as those in reinforced concrete, load bearing walls, wood and steel.

Below are the possible most common employs based on the type of structure to be reinforced.
Consolidation projects on reinforced concrete members
Columns→ Shear, flexural and normal stress reinforcement
Beams→shear and flexural reinforcement
Concrete and masonry flooring systems→flexural reinforcement;
Full slabs in reinforced concrete→ flexural reinforcement
Consolidation projects on masonry members
Masonry infills→reinforcement to in the plane actions
Masonry infills→reinforcement to out of the plane actions
Consolidation projects on wooden members
Beams→flexural reinforcement
Wooden end beam→reconditioning and consolidation with FRP
Consolidation projects on steel members
Beams→flexural reinforcement
Steel beams floors →flexural reinforcement
Trusses→reinforcement of tension members
---
CVT certified products
Oympus-FRP systems are certified pursuant to the Guidelines of the Higher Council of Public Works by the Ministry of Infrastructure and Transport with Technical assessment Certificate .
FRP systems are supplied in form of kit containing many components combined during the lay-up to form the FRP system to be used for the structural consolidation.
---
Contact us now to learn more about Olympus FRP